St.Neots Fencing has over 27 years experience working within this industry, specifically working closely with local schools and councils to achieve a quality job with minimum disruption to daily routines. We can supply and install most types of fencing whether in Steel of Timber, and all of our teams are C.S.C.S certified and DBS checked.
Our installers are also trained to NVQ level Two and our supervisors trained to NVQ level 3. Please see some of our most recent projects below, and if you have a project in mind or need some advise, please do not hesitate to call we would be more than happy to help.
Gates
We can supply and fit all types of gates to match your fencing. Whether you need an automated or hand operated opening, you're in safe hands as all our gates are installed to the highest standards and comply with current legislation. All timber products are pressure-treated using class 4 Tanalith E and any steel gates will be galvanised to EN ISO 1461./p>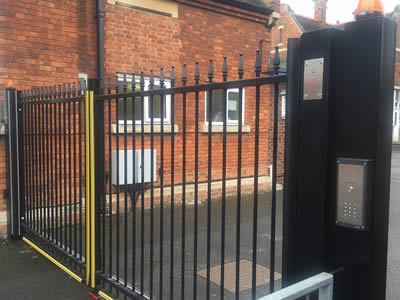 Twin
Wire
Twin wire is a very strong mesh system, which is a good choice for your security fencing and ball courts. The mesh has 6mm vertical bars sandwiched between 8mm horizontal bars which not only give the panel its strength but makes it less likely to sustain damage. It comes with box-section posts and anti-tamper fixings. Twin wire comes galvanised as standard or powdercoated if you require. Matching gates are available.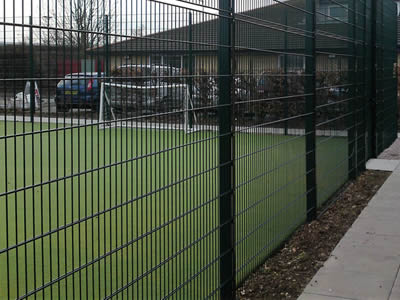 Steel
Palisade
Ranging from 900mm to 3000mm high – steel palisade is a strong and durable security fence that offers flexible installation methods to suit all projects. It comes with triple point pales or round top and notched pales and a choice of finishes to choose from: galvanised, or powder-coated to the RAL colour of choice. Matching gates are available including adjustable hinges, lockable slide bar and drop bolts.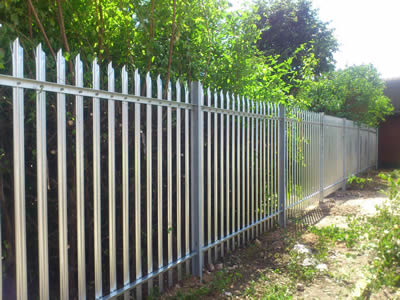 V
Mesh
V Mesh is a popular mesh panel system because it is light and comes in 3000mm panels which make it easier and quicker to install. The mesh panels are a single wire system welded at each intersection and has the V profiles pressed into the panel for added strength. The posts are box-section, which have anti-tamper fixings and it comes powder-coated as standard. Matching gates available to suit your requirements.
Railings
Vertical Bar Railings are commonly used in public and recreational areas as they look great anywhere and offer durability too. The railings are a secure system that are built to last with anti-tamper fixings, ROSPA specification for play areas and schools is a must and comes galvanised and powder-coated to whatever RAL colour you choose. Matching gates available with lockable slide bar and drop bolts as standard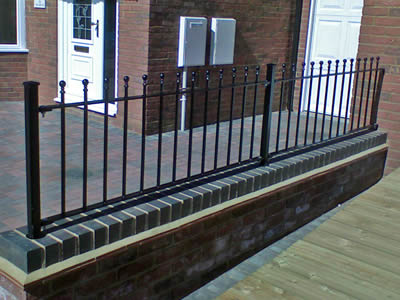 Chain-link &
Weldmesh
Chain-link & Weldmesh is still widely used as a strong boundary fence, especially as it works so well with undulating ground conditions. It can be installed using concrete, box-section or angle iron posts in a wide range of heights and thicknesses, with a choice of either green, black or galvanised finish. Matching gates available.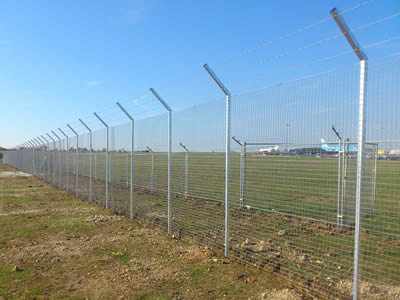 Bow-Top
Railings
Ideal for parks, schools & recreational areas, bow-top railings are manufactured to ROSPA specification. The panels come in a wide range of sizes and boxsection posts are all suppled with anti-tamper fixings. Gates can have auto-closing catches, which are ideal for use in parks. Galvanised and powder-coated finishes come as standard.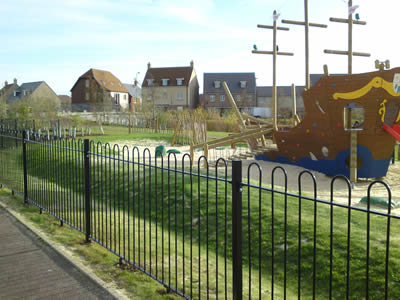 Kee Clamp
Hand Rail
Kee clamp hand rail an excellent way of keeping people safe whether at height or to separate pedestrians from vehicles, widely used in public places and factory's. Can be free standing on roof tops, bolted down or dug into the ground. This product comes galvanised and can be powder coated to a colour of your choice.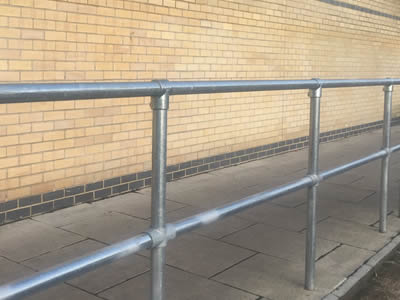 Bike
Shelters
An ideal way of storing bikes and keeping them safe and secure these structures look great whether in a school or work place, encouraging people to use their bikes, helping to reduce carbon emissions All Galvanised and powder coated for a long service life, we can also install the concrete base as well. All our products meet the required British Standards (ISO 1461:2009).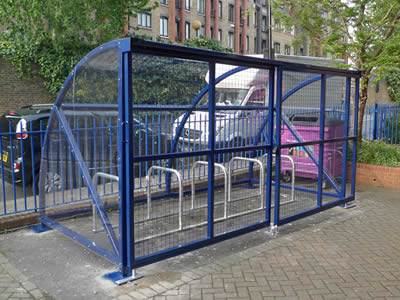 Close
Boarding
Our close-Board fencing, using feather edge boards offers strength and durability – and comes pressure treated for protection against the weather. This type of fencing is available in various heights ideal for creating A boundary on a long run or an incline. It can be installed with concrete posts and concrete gravel boards to create a solid fence. Can come pressure treated in brown or green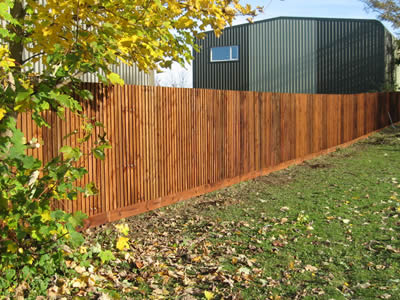 Site Hoarding &
Heras Fencing
You have a legal requirement to make your site safe, install site hoarding or Harris fencing to keep unauthorised personnel out. You can do this with 2.4m high hoarding on timber with matching gates on metal frames ready for painting or with 2m high Harris fencing if needed to be moved frequently as it is on weighted base plates and fixed together using strong bolted clamps. Call us for a free safety check.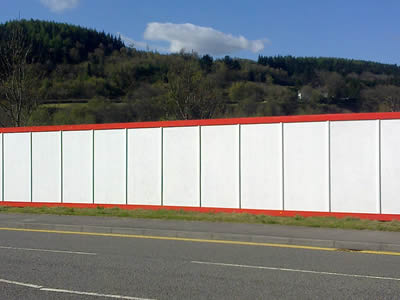 Bollards
Metal or timber bollards are a great way of sectioning off an area or to stop vehicles parking on restricted areas. Timber bollards are pressure-treated to class 4 standard and metal bollards are hot-dipped, galvanised and powder-coated to a colour of your choice or you can choose a plain stainless steel look.
Call us for a no obligation quotation!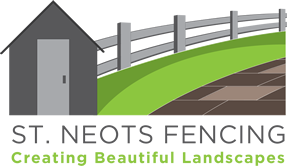 St Neots Fencing, Lower Honeydon Farm, Honeydon, Bedfordshire, MK44 2LR